Demolition Robot
Radio-controlled demolition robot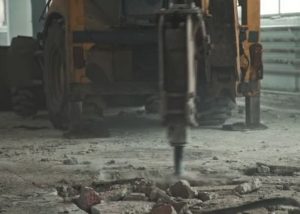 Demolition robot can rest assured of reliability, efficiency, and productivity.
Therefore, when its combined with standard operating procedure, safety risk assessment and operator friendly radio control system, it places the technology in a division of its own among demolition methods and equipment.
Application of demolition robot is highly in demand for confined space, working at height, hazardous environment, and rescue mission.
De-bricking inside a cement kiln
Cement kiln uses demolition robot for much safer and quicker requirement in brick de-bricking works. Furthermore, its coming with a good payback and return of investment only after one kiln tear out.
Robotic demolition in metallurgy mill
Metallurgy mills such as steel, aluminium and foundries uses demolition robot for robotic demolition works in furnace, shell, ladle, runner, torpedo car and residue. Most of all, this is done under very hot environments.
Concrete demolition in building and construction
Construction industry uses demolition robot to demolish building, bridge and stack. In addition, due to controlled demolition and confined space limitation, demolition contractor also uses demolition robot for reconstruct of building interior (renovation) and removal of roadbed.
Controlled demolition in nuclear, energy and chemical
First of all, controlled demolition in a radiation area such as nuclear plant and chemical plant are high risk works. Therefore, the plants uses demolition robot to demolish, load, remove, sort, containerize radioactive waste and other risky or labor intensive operations. Most of all, this is done under strict supervision by enabling camera operation with remote video console.
"Superhero" remote robot in rescue mission
During emergency conditions, the remote robot is considered a "superhero". Therefore, its a life saver for earthquake, fire, mine disaster, terrorist attack, radioactive pollution and toxic chemical material leakage. Due to the radio control system, the rescuer could operate demolition robot remotely.
What features are important for a demolition machine?
High Safety
The robot adopts digital video infrared monitoring and wire or wireless remote control system. Therefore, the operator can stay away from the dangerous site.
The robot adopts low center of gravity and featuring reliable operation. Hence, the human and machine are safe in the operation.
Environmental Care
The robot adopts electric-hydraulic proportional drive, which is featuring with stable operation, low vibration and low noise.
The robot comes with motor drive or low pollution diesel drive. Therefore, the robot could reach Europe EC standard without any harmful gas or low polluted gas.
Energy Conservation
The robot adopts load feedback variable pump system.
The system output is adjust by itself with the load requirement without any energy loss.
High Operation Efficiency
The robot adopts advanced hydraulic breaker and other hydraulic tools, which are featuring with high breaking efficiency.
Therefore, the operation system features accuracy, flexibility and high efficiency.
Wide Application and Strong Adaptation
The robot could be used in metallurgy and cement industry, building demolition industry, rescue industry, nuclear energy and chemical industry, mining exploitation and tunnel construction industry.
In conclusion, the robot is built to adapt to the condition of tough ground and narrow area.
Demolition company needs strong structure features
The robot features multiple functions. The arm end is equipped with quick coupler, which is easy to replace with breaker, shear, bucket, grab, drill and miller.
The robot adopts three-section working mechanism with large operation range. As a result, it could reach the hitting point, hitting angle and direction flexibly in the operation range.
Compact structure, metal track and also 360° rotation.
The robot adopts advanced digital wireless remote control technology and digital video infrared monitoring technology.
The advanced load feedback variable pump electric-hydraulic proportional hydraulic system is applied. As a result, the actuator element could reach step-less speed adjustment, and the operation speed has nothing to do with the load change.
The robot equipped with two types of power source, which is motor drive or diesel drive.
The optional forced cooling system ensures that the robot could work in high temperature.