MM Overseas Air Blaster
Air blaster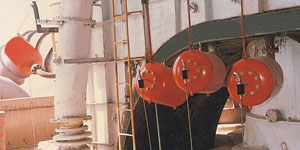 Air blaster is a powerful and innovative solution to remove blockages and build-ups.
We offer preventive solutions to enable you to optimize productivity and help you to recover all of your storage capacity.
We have the right solution for all types of products: human and animal foodstuffs, alumina, clay, bricks, cereals, coal, lime, cement, clinker, wood chips, glass waste, fertilizer, grit, graphite, shot, slag, various ores, oxides, plaster, chemicals, volatile dust, foundry sand, silicate sand, salt, soda, talc, etc.
Typical build-ups issues that will lead to:
production shutdown
extraction flow reduction
storage capacity reduction
products contamination and fermentation
material loss
industrial process disruption
Compressed air blaster
Compressed air blaster is your answer for blockages and build-ups removal
acts directly on the product
compressed air (from 1 to 400 L) is instantly released through a suitable outlet port
this is equivalent to a blast
The largest range on the market:
4 to 400 L tanks
25 to 300 mm nominal outlet diameter
4 versions : Standard / High temperature / ATEX (20) / food-grade stainless steel
Advantages
COMPACT : Aerodynamics of the head / Balance between volume & exit diameter
SAFETY : No blast with air pressure drop
SAVINGS : Reduced air consumption / only 1 single pneumatic line / wireless system
QUALITY : Fully galvanized tank /cast iron head/ over 30 years lifetime
MAINTENANCE : Direct easy access to the mechanism
RELIABILITY : Protected quick exhaust valve /self-aligning piston
SILENCE : Low noise emissions
Related Services
Visits and technical recommendations (dimensioning and positioning)
Supply of the installation drawing
We offer complete installation of our equipment if needed
Up to 3-year warranty
In-house and external training
After-sales service & maintenance contract
Standards compliance