Mobile Incinerator
Mobile Incinerator for Various Application
Whether you need a mobile incinerator in a remote area as a way of controlling disease or transported between multiple sites as part of shared investment, it is an ideal solution for those who require incinerator quickly.
The mobile incinerator is best-suited to a particular waste management situation and categories of waste. It also ensures the highest standards of waste disposal, extremely durable and has a prolonged working life.
The mobile incinerator has a unique characteristic – the primary chamber conducts a natural second burn of waste. Each mobile incinerator is designed to ensure that extra air is drawn into the main chamber, helping primary combustion to guarantee efficient disposal of an animal carcass or other waste, at minimum cost.
Here, we explore our range of mobile incineration units and the different ways in which they might support your day to day operations.
Trailer Mounted Incinerator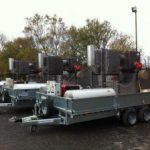 Trailer mounted incinerator can support incinerator products and additional equipment, including generator sets, fuel and more.
The trailer itself has a fixed headboard and sides with the choice of a drop tailboard or a loading ramp, with galvanized chassis, framework and panels for maximum durability. The platform is made of hard-wearing, resin-coated high-density plywood, with commercial rated tires selected for their high carrying capacity and strength. It is essentially a plug-and-play facility, capable of being easily relocated in one lift to a new location.
Trailer mounted incinerator can be used in a variety of sectors:
Agriculture and farming
Mining camps
Disaster zones or emergency situations
Shared facilities
Narcotics destruction of cocaine, heroin, cannabis, spice, MDMA, and ketamine.
Trailer mounted incinerators are particularly durable.
If any of the incineration sound suited to your needs, and you would like to hear more about the individual products available, get in touch with us today.