SILOMANN Acoustic Horn
Discharge flow aid with acoustic horn (sonic horn, air horn)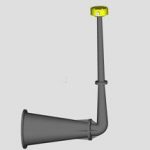 SILOMANN Acoustic Horn is a high powered air horn designed to prevent costly particulate build-up.
It produces high energy and low frequency sound waves. This is accomplished by forcing compressed air through a sound generator causing a titanium diaphragm to vibrate. The vibration creates a series of sound waves. And the sound waves enter the vessel resonating the particulate loose from the surface on which they have settled.
What is the benefits of SILOMANN Acoustic Horn?
SILOMANN Acoustic Horn only have one moving part, the titanium diaphragm, therefore,
No unscheduled shutdown for cleaning.
Low maintenance.
Low operating cost.
Ease of installation.
Low initial investment.
Design and installation.
Where can the acoustic horn be applied on?
Acoustic horn does not only applied on silos, but it does help to eliminate ratholing and bridging. Where else it can be used,
Bin – prevent particulate build-up on vertical wall.
Boiler – increase heat transfer efficiency.
Baghouse – increase bag life.
Precipitators – eliminate rapping system.
SCR – clean catalyst.
What is the basic requirements for acoustic horn to be successful?
Sad but true, at most of the time, an acoustic horn is seen to be a white elephant – does not work.
However, that is not correct at all. All you need to watch out are:
The build up has to be dry and powdery.
The interval between sound blasts must be short enough to ensure that a significant build-up of dust or soot has not occurred, and that the duration of the sound blast is long enough to fill the whole vessel and break the particles adherence. Usually the starting point for most applications is 10 seconds duration every 10 minutes.
The horn require between 40-80 SCFM of air at 70-90 PSI. The volume and pressure must be at these levels or greater to ensure that the horn emit sound efficiently.
The vessel the horn is being installed on, must be clean and free of deposits. The goal of the horn is to have a short enough interval to keep the vessel clean.