CEMAX SILOMANN™ Air Cannon
Solving silo build up problem with air cannon
From our years of experience and survey, its common to see that storage silo owners do not install air cannon or air blaster. And in many cases, its heart ache to find out that it was either dismantled or ignored without maintenance. This can only means that many storage silo owners are still do not understand its importance.
A well-maintained unit can assure that it performs when:
Plugging – material do not flow due to plugging at the opening of the bin.
Ratholing – material flow from the bin but at a reduced capacity because of a rathole.
Bridging – material is broken but bridge above the bin opening.
Build Up – material flow but hang up on the sides of the bin.
The effective power of compressed air cannon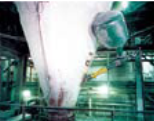 SILOMANN Air Cannon is a permanent and automatic solution to persistent hang-up in the storage silo.
Scheduled blasting of safe compressed air would cut down the material build-up, reduce hands-on work, and minimize day-to-day problems.
SILOMANN Air Cannon is simple with minimal parts design and maintenance

The simple and durable construction makes it effective and easy to maintain.
Four-bolt shooting valve design provides easy access to its two moving parts, and makes maintenance easy.
Industry standard A.S.M.E. pipe flange fittings make installation easy on wood, metal and also concrete structures.
Variety of sizes and applications
Air cannon is successfully used in hundreds of industrial and commercial applications.
It resists corrosion, perform well in harsh environments, and can be retrofitted for high performance in varied temperature.
Its also available in a variety of configuration, pressure, size for versatile installation and product applications.
Features of SILOMANN Air Cannon
Powerful
Easy to install
Low maintenance
Durable corrosion resistant construction
Various sizes and configurations
Control easily integrated into plant operations
The others application of air blaster
Power – a well-placed air blaster will solve the problem of coal compacts above the feeder.
Gypsum – air blaster eliminates hours of manual labor by keeping the flow in sheet rock production.
Coke – air blaster eliminates the need for manual unplugging of coal, and reduce dangerous and non-productive down-time.
Coal – air blaster eliminates plugging and ensure full-capacity use of stacking.
Power – one air blaster is enough to stop the sticking of coal hang up in a storage bin cone.
Rail – hardened and non-flowing DDGs in hopper rail car and truck are emptied with a powerful blast of compressed air, all with the remote controlled air blaster.