CEMAX SILOMANN™ Industrial Cleaning Services
Industrial Cleaning Services Malaysia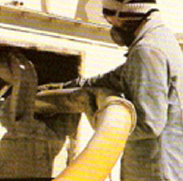 SILOMANN Industrial Cleaning Services Malaysia supply highly specialized and sustainable solution of industrial housekeeping.
We provide facility management services, industrial cleaning maintenance services, general labor support and diversified services to all type of industries.
Our Philosophy in Cleaning Maintenance
We are partnering closely with our clients and take on the role of "problem-solver" in their business operation. We focus on:
enhancing operational efficiency.
improving reliability.
minimizing cost.
minimizing or preventing downtime.
maximizing the clients' profits.
Our Experiences in Facility Management in Malaysia
We have the experiences and the resources to accomplish project small and large. By understanding the business, we execute carefully planned and innovative cleaning technology available.
We support our clients with specialized cleaning equipment. Hence, its ready for ever changing environmental demand in both short and long-term needs.
Further to that, our qualified and highly trained team would response to any related requirement, and delivering services with the highest ethical standard and safety commitment.
In addition, the operation team is backed up by highly motivated and dedicated team of sales, technical support, and administration.
We continuously adjusting our working methods to incorporate new technologies and new knowledge within the field of safety.
Our Capabilities with Cleaning Services Malaysia
SILOMANN can handle all of your industrial cleaning, waste and environmental services, and transport needs.
In addition, we offer the best of both wet and dry vacuuming with powerful vacuum system. Therefore, it removes a wide range of materials quickly including slurry, sediment, powder, aggregate, granular material and many more.
Furthermore, its ideal for working in confined space entry, work at height and silo cleaning services.
Finally, material can then be tipped, blown back into storage, or hauled away to a designated location.
Type of services:
Industrial chemical cleaning.
Industrial housekeeping and cleaning.
Water tank cleaning.
Hot water pressure cleaning.
Kitchen deep cleaning.
Manpower supply.