CEMAX SILOMANN™ Silo Cleaning Method FAQ
What Safety Officers say about conventional silo cleaning method?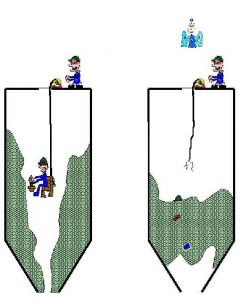 The conventional silo cleaning method involve human entry into a confined space.
First of all, using hand-held equipment or machine for manual shovel, poke or dislodge build-up material are potentially dangerous.
Today, in most developed countries, under most circumstances, actual entry into the silo is contrary to the Local Government Regulations of Occupational Safety and Health under the Confined Space Entry Legislation.
Apart from the worker's natural dislike of doing this type of work, the chances of an accident are relatively high, even with appropriate safety equipment.
Your personnel are not protected from the danger of injury or death due to material collapse.
In industries such as coal, high pressure wet cleaning creates sludge while washing down the silo. In addition, the drying sludge creates dry fine dust that always prompted concern due to the environmental hazards both produce.
With food and chemicals, high pressure wet cleaning creates the problems of rust and bacterial growth. The dangerous reaction can also take place due to this silo cleaning method.
The mess that results from using fire hose clean out is also unpredictable.
The dangers associated with chemical and explosive silo cleaning methods are high. The consequences speak for themselves.
How safe is SILOMANN Silo Cleaning method?
Reduction in the danger of cleaning confined spaces.
No one enters the silo during the high risk situation of the silo.
No longer needs to worry with confined spaces laws.
Dry process cleaning, i.e. no water, no chemical and no explosive.
Complete safety in every situation including an explosive environment.
Why SILOMANN Silo Cleaning procedure save you money?
Fast clean out time, i.e. less down time and reduce production delays.
Dry process, i.e. no by-products to dispose of like water or chemical cleaning methods and no damage to facilities or the environment.
No manual entry, i.e. no confined space compliance costs.
Reclaimed material often of a sale-able nature. There is no contamination of the material; often the value of the freed material pays for a significant portion of the clean out project.
What is the hygienic level of the SILOMANN Silo Cleaning procedure?
Silo cleaning has a tendency to be put on the "back-burner" – put off until the necessity is overwhelming. This can result in product contamination, build-up of material, pests, and lost of silo capacity.
The areas most affected by build-up of unwanted debris, i.e. under the roof surface, in the cone or outlet area, are easily cleaned using our system.
Experience in the food industries has shown that the occurrence of pests and subsequent fumigation is lessened by using the system. The system also provides cleaner silo surfaces resulting in better product flow.
Dry process, i.e. no contamination from water, chemical and explosive.
Environmental friendly and no contamination.
Regular cleaning would ensure product Quality Control.
Higher standard of cleanliness.
Who will be happy to use SILOMANN Silo Cleaning machine?
When factories rely on batch weigh system, to produce the finished product, any blockage or hang-up poses problems. In most instances, for safety, lines have to be "locked'off" to allow silo entry to clear such problems.
The use of mallets to encourage flow is not the best treatment of a silo and inevitably involves costly repair work at a later date.
Using the system, a trained operator can overcome blockages and hang-up without disrupting production, and the cleaning action has a tendency to polish the internal surfaces of the silo enabling better product flow.
Cost reduction in legislation of confined space.
Dead-stock recycling.
Storage capacity improvement.
Compliance to Quality Assurance and ISO.
The other advantages of SILOMANN Silo Cleaning tools
Our crew can clean several silos simultaneously and use more than one cleaning head in each silo to speed up the cleaning process.
The system is light weight and portable.
We design the system to clean chute, large pipes, and can do vertical cleaning.
The system cleans canvas air slide without damaging them.
The system cleans build-up, no matter what the hardness o the material is.
Many companies spent fortunes modifying their cones and silos for needed free flow; these costs are avoidable with the system. The system cleans older silos too.
the system will clean every part of the container including the ceiling an the cone.
Averagely faster than conventional methods.
Simultaneously clean more than one silo.