Spent Refractories
Spent Refractories from the Industries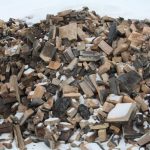 There are thousands of metal-related companies in the world that discard million metric tons of spent refractories annually. Nearly all of the spent refractories are sent to landfills, which is wasting valuable natural resources.
Our purpose is to minimize the refractory wastes being sent to landfills by surveying the types and quantities of spent refractories generated by these companies, the conditions of these wastes, and technologies for recycling and reusing them.
If you are in the industry of using refractories such as Alumina, Ceramic, Copper, Glass, Lead, or Steel, then please contact us for your spent refractory.
Spent Refractories in Steel Mills
Scraps from EAF/BOF/LF/Converter,
Magnesium Carbon (MgO-C)
Graphite electrode (length > 500mm, diameter > 300mm, C ≥ 99%, S < 0.05%)
Used Refractories in Glass Mills
AZS
Dense chrome (Cr2O3 ≥ 65%)
Dense Zircon (ZrO2 ≥ 60%, free of slag)
High alumina (Al2O3 ≥ 80%, white color)
Refractory Scraps in Ceramic Furnace
Inspection of Refractory Waste
Upon confirmation of interest, we would have an inspection from a third-party inspector such as AHK, SGS, Alex Steward, or TUV.