GEOSERVEX Hot Kiln Alignment
Hot kiln alignment, kiln inspection and adjustment
Hot kiln alignment is the most specialized field in measurement and analyse of rotary kiln deformation.
From the beginning of its existence, Geoservex of Poland is developing, implementing and realizing unusual and highly precise geodetic measurements. The most specialized field of the activity are measurements and analyses of rotary machine deformations (patents, national and foreign publications) and measurements of ground displacements of industrial structures, constructions and equipment. The engineers of the company have developed many new technologies, devices and software that have been rewarded with scientific, industrial and business awards. The original achievements are methods of measuring and aligning machines during their operation, hot kiln alignments, which is an achievement often quoted in professional technical literature in many countries.
Rotary Kiln Alignment Methods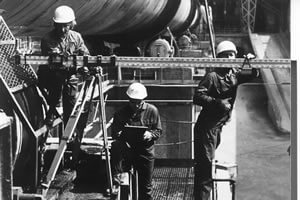 In discussion of rotary kiln alignment methods, the most contemporary laser, code and computer devices have been utilized in a creative way – automating measurements and calculations. The analyses are not limited to presentation of results but they also provide data and guidelines for aligning and supervising machine repairs.
The hot kiln alignment method and equipment are the subject of technology transfer among others to India and Arab countries, and training and consulting in this respect is managed among others in South Korea, USA, Canada, Turkey and other countries.
Measurement of geometry and deformation of machines and equipment
Geoservex can provide measurement methods of:
geometric supervision of assemblies, renovations of machines and equipment.
power turbines
drive systems
paper machines.
Measurements in construction and structure
Geoservex is also providing services for measurement of ground displacement of industrial structure, construction and equipment, such as:
dams, bridges
power station
industrial facilities
mines
chimneys
masts
overhead travelling cranes.
Geometric investment support
Geoservex can also provide geometric investment support for:
building industrial facilities
assembly of technological lines
building highways and bridges
building shopping centres
unusual geodetic measurements