Grinding mill auto pilot expert system with guaranteed short ROI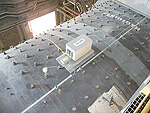 Have you read a copy of the April 2017 issue of Global Cement magazine?
Inside, there is a 3-pages article describes the important advantages of MILLMASTER 'expert system and Mill Auto-Pilot', and the success of the 700 world-wide sold SMARTFILL electronic ear.
Nowadays, while plenty of plants does not get sufficient supports from the original supplier, new sophisticated solutions are of interest which allow the staffs to make adjustment and modification in their high-level control system.
And, you are definitely one of the plants globally looking actually more than ever before to reduce your electrical power consumption and improve your production while reducing the production costs.
The grinding optimization using the SMARTFILL electronic ear for the most precise and reliable filling level measurement of 1- and 2- chamber ball mills plus the MILLMASTER Expert System, the most Open Expert System are the perfect package with guaranteed short Return-On-Invest.
Please do take note that this solution is the Best-Available-Technology and leading system in the market. We hope to support you well to achieve your goals.
If you are interested in the said article, please feel free to reply this email.