SILOMANN Silo Cleaning Services Clients
Silo Cleaning Services Clients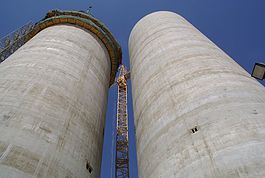 CEMAX SILOMANN provide silo cleaning services to global companies of various dry bulk material industries since year 2004.
We are serving industries of cement and concrete, feed and grain, fertilizer, food processing, industrial powder, manufacturing, pharmaceutical, etc..
We started serving Malaysia, and now our services are available in South East Asia countries.
Silo Cleaning Services Responsibilities
Silo cleaning service includes inspection and audit for silo condition, risk assessment, safety briefing, confined space entry certification, authorized entrant and standby person, authorized gas tester, entry supervisor, safety officer, engineering modification works, silo discharge operation, skilled manpower, equipment and technologies.
Most of the clients are facing problem of rat holing and bridging, which complicates silo efficiency. They might look for solution of a total silo cleaning or just service of blockage clearance only.
We use pneumatic and hydraulic whip machines to "cut" build up on the silo wall while being remotely operated from outside of the silo, in a safe environment.
Below is part of the list of clients according to the respective country.
Silo cleaning in MALAYSIA
CAHYA MATA SARAWAK BERHAD

CMS Cement Sdn Bhd
CMS Cement Industries Sdn Bhd

CEMENT INDUSTRIES (SABAH) SDN BHD
EDRA POWER HOLDINGS SDN BHD

Jimah Energy Ventures Power Plant

HONG LEONG GROUP
LAFARGE MALAYSIA BERHAD

Kanthan Plant
Langkawi Plant
Pasir Gudang Plant
Rawang Plant

MALAKOFF CORPORATION BERHAD
TENAGA NASIONAL BERHAD
UEM GROUP BERHAD

Cement Industries of Malaysia Sdn Bhd
Negeri Sembilan Cement Industries Sdn Bhd

YTL CEMENT BERHAD

Pahang Cement Sdn Bhd
Perak Hanjoong Simen Sdn Bhd
Slag Cement Sdn Bhd
Slag Cement Southern Sdn Bhd
---
Silo cleaning in BRUNEI
HEIDELBERGCEMENT

Butra HeidelbergCement Sdn Bhd
---
Silo cleaning in INDIA
---
Silo cleaning in INDONESIA
---
Silo cleaning in SINGAPORE
---
Silo cleaning in VIETNAM
HOLCIM (VIETNAM) LTD
SONG GIANH CEMENT JOINT STOCK COMPANY