3 in 1 mini electric road sweeper for commercial and industrial areas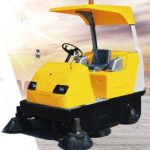 E8006, a 3 in 1 mini electric road sweeper, which combines the function of vacuum, sweeping and water spraying, for your every day housekeeping and cleaning works.
It is suitable to be applied for any type of outdoor cleaning of commercial and industrial areas such as, recreation park, sanitation cleaning, community square, shopping plaza, university, hotel, small and medium size production factory.
It is also very helpful as a utility machine for housekeeping cleaning company, property management company, parking management company and golf course.
Characteristics
Increase the chassis design, flat filter, built in powerful dust control systems, more powerful vacuum cleaner, sweeping width up to 1900mm.
The use of advanced high performance maintenance free battery, no leaking and no harmful gases.
Internationally advanced technology of cleaning and suction system, the theoretical utilization of dust bin is nearly 100%.
Reliable high quality components reduce maintenance and repair costs.
Technical specification
Sweeping path: 1900 mm.
Productivity: 15000 m2/h.
Max climbing capacity: 25%.
Main brush length: 800 mm.
Power type: 48 V.
Cleaning time: 6-8 hours.
Water tank capacity: 50 L.
Waste hopper capacity: 180 L.
Side brush diameter: 500 mm.
Driving power: 2000 W.
Operation power: 700+400+100*4+50 W.
Turning radius: 1200 mm.
Working speed: 7 km/h.
Driving speed: 9.8 km/h.
Filter area: 5 m2.
Net weight: 780 kg.
Dimension: 2150 x 1900 x 2040 mm.
Application
Outdoor cleaning area
Recreational park
Sanitation cleaning
Community square
Shopping plaza
University
Hotel
Small and medium size production factory
Housekeeping cleaning company
Property management company
Parking management company
Golf course
Bus Station

Tourist Center

Community Square

Residential

Police Station

Highway Toll Station

Airport Runway

Sanitation

Recreational Park

University

Factory Road

Railway Station