Outdoor street sweeper vacuum replaces three workers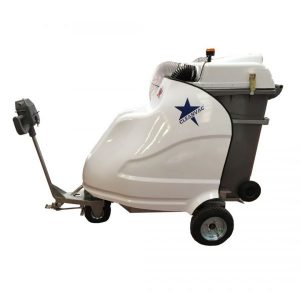 Outdoor street sweeper vacuum with manual control to clean parks and gardens used by municipals. Garbages such as cans, leaves, cigarette buds are cleaned in short time.
ST240 is also suitable for cleaning indoor and outdoor areas of factories, hospitals, schools, universities, hotels, and golf clubs.
The maneuver capacity is highly developed and provides very good motion ability to its user.
There is water sprayer inside the garbage drum to prevent dusting. The safe brakes system on wheels will activate on high slopes and provides very safe usage to employee.
Environmentalist
It provides cleaning with environmentalist structure and protects your wallet. ST240 can also be produced as gas system when requested as produced battery operated system. You may contact to obtain information.
Technical specifications
Tank capacity: 220/250 LT
Motor: 24 V DC
Battery type: 12V 100 A x 4 battery
Working hours: 8 to 12 hours
Speed: 6 km/h
Suction hose diameter: 115 mm
Suction hose type: Impact resistant reinforced
Body material: Polyester
Chassis material: Electro zinc coating corrosion resistant
Sound level: Silent
Vacuum power: 1000 Watt
Dimension: 100 x 220 x 170 inch